Welcome to the Off Broadway Alliance
The Off Broadway Alliance is an organization of Off Broadway producers, general managers, venue owners, press agents and marketing personnel dedicated to promoting and supporting Off Broadway theater, encouraging and assisting new producers, and making live theater increasingly accessible to new and diverse audiences.
The Alliance holds monthly meetings and membership is open to everyone in the Off Broadway theater community.
What's New?
The Off Broadway Alliance will hold the next event in its Seminars series focused on the "Off Broadway Producing Experience" on Saturday, September 21st, 2019. Click here to purchase your tickets.
The seminar, titled "I Wish to Go to the Festival" will feature top theatre professionals discussing all aspects of producing theatre in a festival environment, and how to get the most advantage from the experience. The panelists are Tony Award-winning producer Ken Davenport (Once on this Island, Rave Theatre Festival), producer and general manager Sharon Fallon (Indecent), Producing Artistic Director of NYMF West Hyler (Paramour, Georama), and writer/director Rebecca Aparicio (Pedro Pan, Gloria: A Life). Producer Robert Driemeyer (La Cage aux Folles, Tennessee Williams' The Two-Character Play) will moderate.
I Wish to Go to the Festival will be held on the 3rd floor of The Theater Center (210 West 50th Street). Check-in will begin 10:30am for networking and complimentary coffee and bagels. The panel discussion will take place from 11am to 12:30pm with additional time allotted afterward for conversation with fellow attendees.
Admission for the seminar is $5 (to offset the costs of presenting the seminar), and pre-registration is a must. Attendees are encouraged to pre-submit questions for the panelists when they submit their reservations. Questions will be asked live at the seminar. For tickets, please visit iwishtogotothefestival.eventbrite.com.
About The Panelists: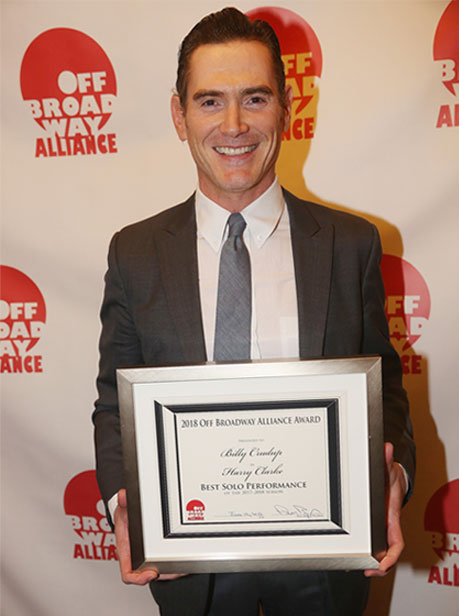 We are pleased to announce the winners of the 8th Annual Off Broadway Alliance Awards!
The OBA Awards are presented in six competitive categories and honor the best in commercial and not-for-profit Off-Broadway theatre. Click here for a full list of this year's nominees and here for past winners.
The recipients of this year's awards will be honored at a ceremony at Sardi's on June 19.
Without further ado, the winners!
Best New Musical | Desperate Measures
Best New Play | Transfers
Best Revival  | The Government Inspector
Best Unique Theatrical Experience | KPOP
Best Solo Performance | Billy Crudup, Harry Clarke
Best Family Show | Polka Dots: The Cool Kids Musical (Atlantic for Kids)
As previously announced, this year's Legend of Off Broadway Honorees are Jo Bonney, André de Shields, David Rabe, and Mary Testa. Donald Farber – the theater attorney who quite literally wrote the book on Off Broadway – and the great playwright and actor Sam Shepard will be posthumously honored with induction into the Off Broadway Hall of Fame. Carol Rosegg, who has photographed hundreds of Broadway and Off Broadway productions, will be honored with the 2018 Friend of Off Broadway Award.
Congratulations to the winners and to all of this year's nominees!
2018 OBA Awards – Winner Announced
2017 OBA Awards