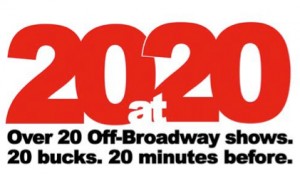 January 22 to February 10, 2013
Buy tix to any of 40 Off Broadway shows
$20 Tickets 20 minutes before curtain
 (January 10, 2013: NYC)  The Off Broadway Alliance will again sponsor 20at20, the bi-annual celebration of Off Broadway.  The popular promotion, which begins January 22nd and continues through February 10th, makes $20 tickets for 40 Off Broadway plays and musicals available to theatre-goers twenty minutes prior to curtain.  Now in its 7th year, 20at20 has become one of New York's most eagerly-anticipated promotions for budget-conscious theatre-goers.
Peter Breger, Chairman of the non-profit Off Broadway Alliance said: "We are thrilled to once again offer $20 tickets to many of New York's most popular Off Broadway shows, including three winners of the Off Broadway Alliance Awards: FORBIDDEN BROADWAY: Alive and Kicking!, SILENCE! The Musical, and NEWSical The Musical.
"Just show up twenty minutes before curtain to purchase available $20 tickets at the box office.  Here's your chance to catch up with shows you may have missed, get a sneak peek at the newest hits, or revisit a favorite show – all for just 20 bucks."
Since Off-Broadway has performances to fit everyone's schedule, you can have a terrific all-theatre weekend: leave work early on Friday and catch Zelda at the Oasis in midtown at 5pm, then grab a quick bite and head over to the 20th anniversary revival of All in the Timing at 59e59. Start the day right on Saturday with The Lion, The Witch, and The Wardrobe at 11am (bring the kids!), then stroll up a few blocks to catch Avenue Q at 2:30pm, have an early dinner, and go see The Fantasticks at 8pm. Then come back to midtown after brunch on Sunday for the matinee of Cougar, the Musical at 2pm, and head down to Union Square for Fuerza Bruta at 7pm. Where else can you see seven shows in a weekend, for about the average price of ONE BROADWAY TICKET?
All 20at20 ticket sales are cash only.  For a complete list of participating shows and venues see below or visit www.20at20.com.
Once again, if you see seven Off Broadway shows during the OBA's 20at20 promotion, you can enjoy a FREE DINNER on us!  See any seven of the participating 20at20 shows between January 22nd and February 10th and receive a voucher for free dinner for two at an area restaurant.  Just mail your original ticket stubs (no photocopies accepted) for seven 20at20 shows to: 20at20 Dinner Special, 555 Eighth Avenue, Suite 905, NY, NY10018. All entries must be postmarked by February 11th to be valid.  Please include your name, phone, email, and mailing address.
20at20 is presented by The Off Broadway Alliance (OBA), a non-profit corporation organized by theater professionals dedicated to supporting, promoting and encouraging the production of Off Broadway theater and to making live theater increasingly accessible to new and diverse audiences.  The Alliance holds monthly meetings and membership is open to everyone in the Off-Broadway theater community.  Among its initiatives, The Off Broadway Alliance sponsors a free Seminar Series focusing on the culture, business and history of Off Broadway featuring major players from the Off Broadway scene.  And the OBA created the Off Broadway Economic Impact Report, which details Off Broadway's over $500 million annual impact on the economy of the City of New York."
20at20 is presented with additional support from Playbill, BroadwayBox.com, BestOfOffBroadway.com, BroadwayInsider.com, TheMenEvent.com and 8Coupons.com.
For complete info on 20at20 go to www.20at20.com or address any question via email to contact@20at20.com.    
Off Broadway shows participating in 20at20:
(as of 01/10/13)
January 22 – February 10, 2013
5 Lesbians Eating A Quiche
Soho Playhouse
www.5lesbianseatingaquiche.com
20at20 Terms and Conditions: All tickets subject to availability. Restrictions may apply. Offer valid only at the box office on the day of the performance twenty minutes prior to curtain. Offer may be revoked at any time. Not valid on prior sale.  Cannot be combined with other offers.  Valid January 22 – February 10, 2013.  Cash only at all venues. Additional restrictions may apply. Free dinner offer valid while supplies last.  A limited number of dinner vouchers are available. No substitutions will be given. You will not be able to choose your restaurant. Voucher is subject to restaurant's restrictions.