Welcome to Off Broadway Alliance
The Off-Broadway Alliance is an organization of Off-Broadway producers, general managers, venue owners, press agents and marketing personnel dedicated to promoting and supporting Off-Broadway theater, encouraging and assisting new producers, and making live theater increasingly accessible to new and diverse audiences.
The Alliance holds monthly meetings and membership is open to everyone in the Off-Broadway theater community.
OBA Awards – Winner Announced
We are pleased to announce the winners of the 8th Annual Off Broadway Alliance Awards!
The OBA Awards are presented in six competitive categories and honor the best in commercial and not-for-profit Off-Broadway theatre. Click here for a full list of this year's nominees and here for past winners.
The recipients of this year's awards will be honored at a ceremony at Sardi's on June 19.
Without further ado, the winners!
Best New Musical | Desperate Measures
Best New Play | Transfers
Best Revival  | The Government Inspector
Best Unique Theatrical Experience | KPOP
Best Solo Performance | Billy Crudup, Harry Clarke
Best Family Show | Polka Dots: The Cool Kids Musical (Atlantic for Kids)
As previously announced, this year's Legend of Off Broadway Honorees are Jo Bonney, André de Shields, David Rabe, and Mary Testa. Donald Farber – the theater attorney who quite literally wrote the book on Off Broadway – and the great playwright and actor Sam Shepard will be posthumously honored with induction into the Off Broadway Hall of Fame. Carol Rosegg, who has photographed hundreds of Broadway and Off Broadway productions, will be honored with the 2018 Friend of Off Broadway Award.
Congratulations to the winners and to all of this year's nominees!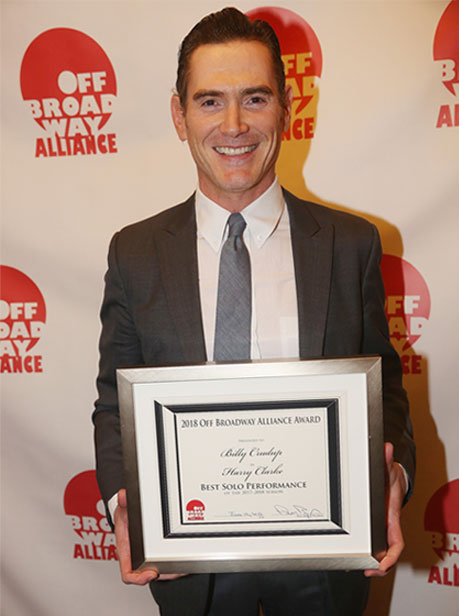 What's New at Off Broadway Alliance?
20at20, the Off Broadway Alliance's hugely popular semi-annual ticket promotion, is up and running! Now through September 23, $20 tickets to a wide variety of Off Broadway shows will be available 20 minutes before curtain. Head over to 20at20.com for more information and to sign up for day-by-day breakdowns of what's playing! [...]
Video from the 2018 OBA Awards is now available! Check out some highlights from the event below: For more video - including acceptance speeches from winners and honorees! - please click here. All videos courtesy of Jeremy Handelman of Off The Leash Productions.